Alcohol Free Dark Caribbean Rum.
270 North combines fine Scottish waters with the essence of aged and matured barrel elicitation, A dark Rum Alternative: Sweet & peppery on the nose with Dark muscovado, chard oak and coffee notes and a cask finish. Rich & dark. Sweet & peppery on the nose with dark Muscovado, chard oak & coffee notes and a brandy cask finish.
50 YEARS IN THE MAKING –All our spring water has taken 50 years to percolate through the Grampian mountains and created using 100% natural botanicals offering a healthier alternative
Exclusively uses Scotland's Deeside mineral water from their Pannanich Wells in the production of all our Glen Dochus variants•
TASTE
Spicy & golden Tahitian & Madagascan vanilla infuse with cinnamon, toffee and orange peel notes with a warming black pepper finish.
PLEASE NOTE THIS PRODUCT IS PRODUCED TO BE MIXED WITH WATER OR A MIXER OF YOUR CHOICE IDEALLY AT A 3:1 RATIO. IT IS NOT DESIGNED TO BE DRUNK NEAT.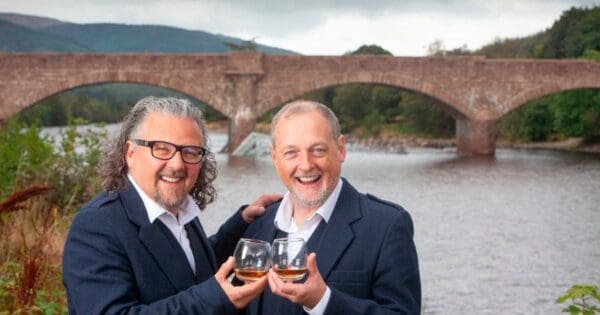 Crafted on a base of Scottish Deeside spring water, Spirits of Virtue is the creation of brothers Roddy and Kerr Nicoll.
The vision began five years ago, in Roddy's garage, growing rapidly to a now international standing. The goal? To deliver a range of unique super-premium non-alcoholic spirits to a rapidly evolving, health-conscious market.
All the products are based on organic ingredients, with exceptional flavours; a complex blend of botanicals, made to a secret recipe, with Deeside water at their core.
Filtering through the mountain rock, the mineral water is fundamentally different due to the specific characteristics in its natural chemistry. a very low mineral content and a low pH make it desirable for complementary health products.
Quality, flavour, organic, low sugar, low calorie, healthy and fun! Spirits of virtue drinks offer a realistic alternative to alcohol.