Alcohol Free Scotch Whisky.
Glen Dochus combines fine Scottish waters with the essence of aged and matured barrel elicitation, malt and barley flavours and the finest botanical extracts. The blends are produced to pay homage to the traditional Scottish whisky flavours. Producing an authentic tasting alcohol-free beverage which demands to be explored.
50 YEARS IN THE MAKING –All our spring water has taken 50 years to percolate through the Grampian mountains•
Exclusively uses Scotland's Deeside mineral water from their Pannanich Wells in the production of all our Glen Dochus variants•
The only Non-Alcoholic Whisky produced in the recognised centre of Whisky excellence –Scotland
Instantly recognisable whisky presentation.
EXPORT BLEND
Rich and exotic, sink into this enticing mix of creamy, sweet raisin, and candied orange fruit, layered with scented heather honey. And sumptuous, creamy toffee. Indulgent and smooth, indulge in the deep layers of soft smokey oak, butterscotch, and spicy ginger, with an indulgently velvety, biscuity edge. At the heart of this is the very unique Scottish Cairngorm water, filtered for up to 50 years through granite rock.
PLEASE NOTE THIS PRODUCT IS PRODUCED TO BE MIXED WITH WATER OR A MIXER OF YOUR CHOICE IDEALLY AT A 3:1 RATIO. IT IS NOT DESIGNED TO BE DRUNK NEAT.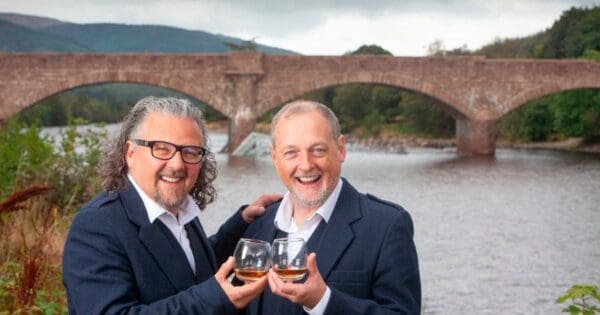 Crafted on a base of Scottish Deeside spring water, Spirits of Virtue is the creation of brothers Roddy and Kerr Nicoll.
The vision began five years ago, in Roddy's garage, growing rapidly to a now international standing. The goal? To deliver a range of unique super-premium non-alcoholic spirits to a rapidly evolving, health-conscious market.
All the products are based on organic ingredients, with exceptional flavours; a complex blend of botanicals, made to a secret recipe, with Deeside water at their core.
Filtering through the mountain rock, the mineral water is fundamentally different due to the specific characteristics in its natural chemistry. very low mineral content and a low pH make it desirable for complementary health products.
Quality, flavour, organic, low sugar, low calorie, healthy and fun! Spirits of Virtue drinks offer a realistic alternative to alcohol.