Noughty – the first top quality Alcohol Free, Organic, Vegan, Halal, White Wine.
Beautifully crafted Chardonnay/Chenin Still White Wine from South Africa. <0.5% ABV
Produced using 98% Chardonnay and 2% Chenin Blanc grapes harvested from dry-land farmed vineyards in the Western Cape region. The vineyards are strategically planted on south-west facing slopes to capture cool breezes from the Atlantic Ocean and cold Benguela current. Deep soils from decomposed granite, clay rich, with good drainage.
With 14 days fermentation at 14-15°C, the grapes and juice are handled reductively to prevent oxidation and lock in fruitiness. The wine is left on lees for 2 months to add complexity. The wine is then dealcoholized by way of a gently spun cone technology. This is done under vacuum and at low temperature to ensure that the wine retains its distinctive body, colour and flavour.
Alcohol: Less than 0.5% Vol.
Residual Sugar: 2.08g/100ml
Kcal: 17/100ml
Sulphur Dioxide: Less than 150mg/l
The bottle contains less than 150mg per litre of sulphites and is gluten free.
A word about the founder: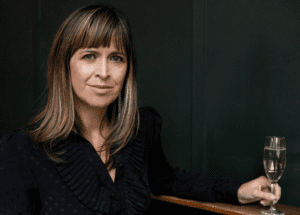 Noughty was launched by Amanda Thomson, CEO and Founder of Thomson & Scott.
"I set up Thomson & Scott to enjoy delicious Champagne, Prosecco and sparkling wine that avoids adding unnecessary sugar to the production process."
Her idea: taking a sophisticated, vinous approach to crafting an alcohol-free sparkling that she would enjoy drinking.
She also wanted her wine to be:
– organic certified
– vegan certified
– without unnecessary sugar.
Amanda is also driving the debate for greater transparency in wine production and labelling and wants consumers to push to know what's in their bottle.
Raised on a plant-based, no sugar diet by her health-conscious mother, Thomson has always had a keen interest as to what's in her food.
Thomson & Scott is a certified B-Corp, which encapsulates everything about Amanda's philosophy: ethical, honest wines. Profit with purpose