Drynks Unlimited owns the first and currently only Cool Vacuum Distill (CVD) unit in the UK, based in Manchester.
They start with great tasting, fully alcoholic Beer and Cider. The Oxygen-free vacuum chamber enables them to gently heat the liquid for just a few minutes.
This process removes all of the alcohol without damaging the characteristics and taste of the liquid producing a great refreshing drink with the taste and
the integrity of the original alcoholic liquid.
Craftily brewed, then all the alcohol is swept away to leave only pure satisfaction – This refreshing unique citrus beer from Drynks is pure refreshment with a perfect balance of citrus, malt and hints of hops & barley. A pale gold, sparkling liquid with a fresh, clean aroma.
AROMA: HOPPY, CITRUS
TASTE: CITRUS WITH A CRISP BITE
Serve really cold

Great Alcohol Free drinks start life as great alcoholic drinks. The secret to our great taste according to Drynks Unlimted is in their Cool Vacuum Distillation (CVD) equipment. Drynks distil their base beers and ciders to remove the alcohol. Usually, this would be done at high temperatures at atmospheric pressures. In using high temperatures chemical reactions take place which destroy the delicate flavours and ruin the taste (remember alcohol free drinks of old?) by treating the products gently and boiling away the alcohol under vacuum, they can reduce the temperature to a minimum, preserving all of the delicate flavours for you to enjoy.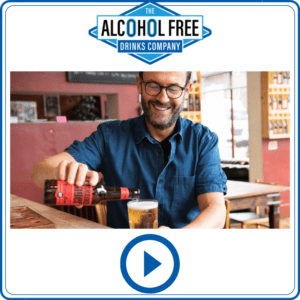 Take a Look at this video from Richard the founder of Drynks Unlimited and he can tell you how he makes this great Alcohol Free Drink.
Richard's vision: "Our mission is to create a portfolio of alcohol-free brands that deliver an ethically sourced, authentic, natural taste that will let drinkers forget that they aren't drinking something alcoholic. We are the only UK drinks business to invest in a state-of-the-art cool vacuumed distillation kit that gently dealcoholises full-strength drinks. This produces delicious alcohol-free drinks that taste just as good as a quality alcoholic version."
You may also remember Richard from pitching on Dragons Den back in 2020, if not watch how he got on!