The biggest flavoured Alcohol Free Spirit you will ever taste…….
Talonmore was born out of a desire to create a full-bodied, unique blend of complex and fiery flavours.
The secret recipe incorporates super-foods including ginger, prickly pear, hawthorn berry, and Assam tea.
This harmonious blend of warm and fiery flavours, with intense ginger, creates a complex mix between sweet and bitter that lingers on the palate. Served neat or on the rocks, Talonmore can be a signature winter warmer with nostalgic fragrances and evolving spices. Adding a light mixer can enhance other flavors to produce the perfect summer refreshment with upfront fruity notes that develop into a lasting fresh and botanical after taste.
Inspired by the versatility of Edinburgh's historic charm, natural surroundings and unique festival spirit, this non-alcoholic drink has been created through a mix of rooted and plant-based ingredients to ensure flavour is at the forefront.
Talonmore is 0% ABV and has been created to replicate the experience of drinking a dark spirit. We don't want to avoid alcohol and settle for water. We want to integrate the fire, buzz and kick of Talonmore into these events so everyone can have a great time but wake up feeling fresh the next morning. Ready to explore another productive day.
With a fiery taste, that simulates the pleasant burn of alcohol, the Talonmore name derives from the strength of an eagle and its touch point with the land's natural ingredients. We believe you should be able to enjoy a drink of choice, whether socialising or at home, without sacrificing health, control and taste. The mascot eagle symbolises power and freedom which complements our company strapline, 'Dare to Explore'.
"Good kick to it, citrus and ginger punch"
Pairing
Enjoy this fantastic Alcohol Free Spirit over Ice after a dog walk on a Sunday afternoon in front of a roaring open fire.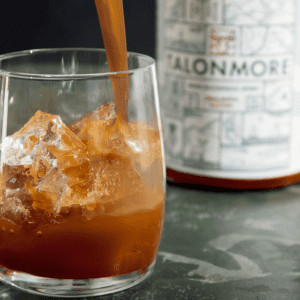 Or use Talonmore as a base for a more exciting non alcoholic cocktail
Tasting notes:
Ginger: Fiery, Sweet & Warm, Slight Woody Flavours.
Cactus Juice: Fruity notes of Fig & Watermellon.
Assam: Full Bodied, Malty Flavour Slight Orange Notes.
Hawthorn Berry: Tart & Tangy with a mild sweetness.
Brewed Not Distilled with passion in Port Glasgow.
Information Per 100ML:
Alcohol: 0.0%
Kcal: 153/100ml
Serve really cold and store in the fridge once opened.

Suitable for Vegans and is Gluten Free.
What people are saying about Talonmore:
"The flavour of this is absolutely unreal, my favourite by far of any non alcoholic drink." – Michelle
"I sipped it in the way one might sip a whisky…a small measure lasted over half an hour." – Jack
"The flavour in this fantastic Alcohol Free Spirit just screams winter warmer… I never knew a non alcoholic drink could taste this good" – Andy

A word about the founder: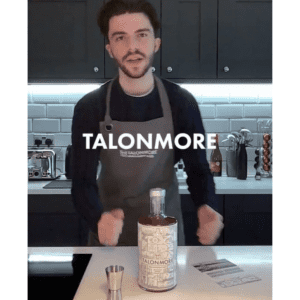 Talonmore is a true family business started by Lewis Kennedy.

"Having grown up with and been inspired by Edinburgh's festival spirit with world class artists and events congregating in the city centre every year, socialising has been ingrained in us to be paired with alcohol. This is where we want to be different. Talonmore is 0% ABV and has been created to replicate the experience of drinking a dark spirit. We don't want to avoid alcohol and settle for water. We want to integrate the fire, buzz and kick of Talonmore into these events so everyone can have a great time but wake up feeling fresh the next morning. Ready to explore another productive day"