Hambleton Brewery Point Five ~ 500ml Bottle
Hambleton Brewery….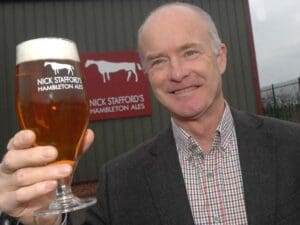 …. was born in 1991, when Nick Stafford decided to start a brewery at the bottom of his in-laws' garden. Armed with nothing more than a pair of wellies, some old steel tanks and a rusty Peugeot 205, Nick built his brewery with blood, sweat and tears. Why did he do this? Simply because he wanted to make great beer.
Today's demand has meant we have moved out of the garden, and we also have some slightly shinier tanks, but Nick's original ambition still stands. We love making great beer. That's what we do best. And everything we do at Hambleton Brewery revolves around this fact.
So whether you are drinking one of our much loved cask, keg or bottled beers, or trying one of our monthly specials, you can be sure that you are drinking a beer of outstanding quality, brewed with real passion by people who just want one simple thing – to make great beer.

Hambleton Brewery Point Five ~ 500ml Bottle
A pale ale packed with American hops, low in alcohol and full of flavour.
What People say about Point 5
A great beer!
"I've raved about this pale ale on my Beers Without Fears blog already – it's a traditional pale ale but with an extra blast of hops. Good job it's in a half litre bottle cos it slips down very easily. Top top brew."
Great beer, very zesty!
"Try this amazing beer! Very pleased! This is one of the best low or no alcohol beers I've tried. Most are rubbish or leave you wanting to drink a pint of water instead!  It tastes like a new worldy sort of beer, very hoppy and you feel like you are enjoying a nice beer."
Hambleton Brewery Point Five ~ 500ml Bottle
ABV 0.5% / 500ml bottle If you would like to know about the definition of Alcohol Free Drinks Click Here: