ANON spirits combine natural flavourings to create delicious non-alcoholic libations
ANON spirits, launched in June 2021 by Monmouth based Alfresco Drinks, combine natural botanicals and flavourings to create delicious non-alcoholic libations.
Why are drinks called libations?
The English word "libation" derives from the Latin libatio, an act of pouring, from the verb libare, "to taste, sip; pour out, make a libation"

These drinks are designed to be poured and enjoyed over ice and your favourite mixer.
ANON No Groni
Description
Our ready to drink No Groni combines a non-alcoholic trio of traditional gin, red vermouth and Bittersweet Aperitif
Blends of complex flavours and botanicals create an enlivening drink with hints of bitter orange, juniper and aromatic herbs
Best served in a tumbler, over ice, with a slice of fresh orange for a clear-headed alcohol free Negroni
Our No Groni is the perfect alternative for those who still want to enjoy the sophistication of a classic gin Negroni cocktail without the alcohol.
With its unique blend of complex botanicals, it's sure to become a staple in your bar collection. Enjoy a tumbler of No Groni over ice, with a slice of fresh orange, and savour the taste of this non-alcoholic treat. Perfect for those who prefer a non-alcoholic option, No Groni is the answer to your next cocktail hour.
Don't miss out on this amazing new drink – it's revolutionizing non-alcoholic drinks everywhere with its bold flavour and complex complexity. So if you're ready to keep your wits about you while still enjoying a delicious night out, order some No Groni today and experience the best of both worlds!
A word about the founder: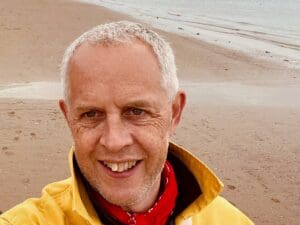 Julian says:
ANON has been bought together as a collaboration between Alfresco Drinks who's founders are Julian Ebbutt and Robin Sheppard who have been developing and making soft drinks for over 20 years, and a number of their ingredients partners and distilleries. So I asked Julian a few questions about his spirits.

What was your inspiration for the flavours that you have launched Anon with? "We have over 20 years of experience creating great tasting drinks, and felt that, after plenty of sampling/testing, the initial flavours/drinks we have chosen were the closest match to their alcohol equivalent"
Why are your drinks called libations? "No idea – just thought it sounded better than drinks !"
English Garden is a really unusual drink in that it is the first AF spirit inspired by the famous British drink Pimm's, Is this a particular favourite of you and your family? "Absolutely – it really is a great British tradition and we felt that the formulation we come up with really worked well"
You have a very strong logo with the owl does that have any significance to you as the founder. "Not in particular – just felt the wise old owl was a nice character"
Full details of the Anon range can be found here: www.anondrinks.com