An Alcohol Free Spirit distilled with natural ingredients and sacks of integrity…….
Bax Botanics Alcohol Free and Calorie Free spirits are traditionally distilled in beaten copper alembics for the purest flavour. Their award-winning Sea Buckthorn and Verbena offer vibrant, bold, botanical flavours. A great Alcohol Free Gin Spirit
Chris and Rose Bax the founders have spent decades learning about and experimenting with botanical flavours. Between them they have over 30 years experience of teaching and consulting to the food industry, focussing on delicious and exciting ways to use wild ingredients and culinary herbs. They are now using all their skills and experience to distil a secret recipe of herbs, roots, berries and flowers to create alcohol-free spirits with layers of beautifully complex flavours.
Inspired by wild herbs and botanicals Rose & Chris combined flavours to create complex alcohol-free spirits. They distil in beaten copper stills in a time-honoured way making their drinks pure, honest and beautifully natural.
Bax only uses organic and ethically sourced herbs and botanicals: wherever possible using recycled and recyclable packaging – even the bottle labels are printed on material from a natural fibre based pulp that's a waste by-product of the sugar cane plant. ⁠
Verbena is bright, botanical and bold. It's refreshingly herbaceous profile will invigorate your senses. The strength and pure flavours of our Verbena non-alcoholic spirit will shine through in any cocktail, all while welcoming you to a peaceful grassy & floral meadow. Bax's Verbena drink has its own vibe. The refreshing and zesty flavours will excite your palate, the perfect accompaniment to a light brunch. Drinking alcohol-free Verbena means you can enjoy the party with a clear head and no after effects.
Pairing
Enjoy this fantastic Alcohol Free Spirit over Ice with a Fever Tree Mediterranian Tonic Water & a slice of cucumber for a great healthy Alcohol Free alternative to a Gin & Tonic.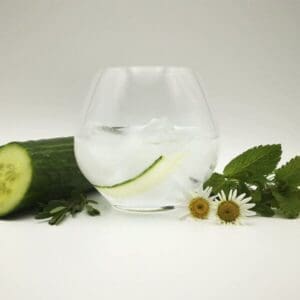 Or use Bax Botanics Verbena as a base for a more exciting non alcoholic cocktail.
If you want to impress your friends with an alcohol-free aperitif try this – packed with flavour this Southside has a depth and intensity that's second to none.
INGREDIENTS
• 50ml Bax Botanics Verbena
• 20ml lime juice
• 20ml sugar syrup
• 10-12 mint leaves – smacked
• A few ice cubes
• Fresh mint to garnish
Combine the ingredients in a cocktail shaker, shake well and strain into a chilled glass. Garnish with a mint leaf – optional.
Tasting notes:
Citrusy gin
Fresh floral notes
Long zingy finish
Distilled with passion and integrity in Wetherby Yorkshire.

Information Per 100ML:
Alcohol: 0.0%
Energy – 5kj/1kcal
Fat – 0g of which saturates – 0g
Carbohydrates – 0g of which sugars – 0g
Protein – 0g
Salt – 0g
Suitable for Vegans and is Gluten Free.
What people are saying about Bax Botanics:
"The sea buckthorn is genuinely the nicest non alcoholic or otherwise drink I've had in ages. It's got such a sophisticated taste and REALLY tastes like a spirit. It's not a compromise, it's a choice.." – Michelle
"The most delicious alcohol free spirit I've tried – it really packs a punch and is so versatile!" – Greg P Google Review.

"A refreshing adult tasting drink and I highly recommend." – Wendy

A word about the founders: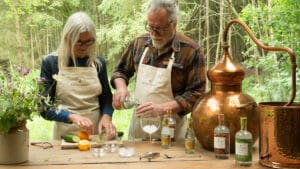 Chris and Rose Bax, founders of Bax Botanics distil their amazing Alcohol Free Spirits in Wetherby which is where we are based and I've had the privilege of visiting them a few times and see their amazing operation. They are self-confessed "Tree Huggers" but I can assure you they deliver on what they promise and are very nice people to boot!

In their quest for sustainability they have tracked down organic, fair traded, fair wild herbs and it is with these that they created the drinks they produce today. Carefully balanced, using the knowledge and experience gained from years spent experimenting with exciting ingredients.
"We are two people working on a thing we love, creating a drink we believe in, using real ethically sourced ingredients. No unnecessary additives here, authenticity is what we do!⁠ We have a passion for sustainability, from the bottles to the recycled packaging. We include sustainability at every step we can. We want to tread as lightly as we can on the planet.⁠"