Crossip – Founded in a Bar, not a faceless Boardroom…
CROSSIP is here to bring some true bite to your drink, without compromise. Whether you're blending or substituting alcoholic and non-alcoholic drinks, or you're abstaining from alcohol for a while, we prioritise that bold taste experience above all else. You deserve it.
NEVER COMPROMISE. EXPECT MORE.
Crossip's mantra of "Unapologetically Bold" embodies our confidence with what we have created with CROSSIP.
WE'RE NOT SORRY THAT THERE'S NO ALCOHOL. 
WE'RE NOT SORRY THAT OUR FLAVOURS ARE BOLD, FOCUSED AND INTENSE. 
WE'RE NOT SORRY THAT WE HAVEN'T TRIED TO DIRECTLY COPY YOUR FAVOURITE ALCOHOLIC SPIRIT.
CROSSIP is produced using a proprietary maceration process from raw botanical ingredients that produce texture, depth and mouthfeel are everything when creating a mature and sophisticated drink, whether as a fancy cocktail or with a simple mixer.
Fresh Citrus
Perfect for a 0% Mojito, Cosmo or simply with Tonic
Inspired by our favourite fruity botanical spirits
Served by Delia Smith – "CROSSIP Fresh Citrus is a superb, really clever invention"
Due to the intensity and boldness of the flavour, all CROSSIP Non-Alcoholic Spirits are designed to be used in 25ml measures to make a simple serve with a premium mixer.
With 20 servings per 50cl bottle, CROSSIP goes further than other non-alcoholic spirits that require 50ml or 60ml measures.
A Word about the inspiration behind Crossip: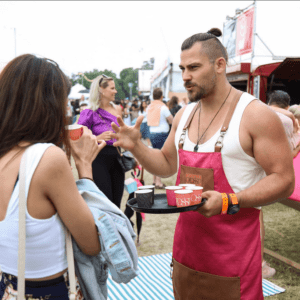 Carl is an industry and media renowned cocktail expert. Before launching CROSSIP he featured regularly on Channel 4's Sunday Brunch as a drinks expert and has made appearances on ITV's This Morning.
With 16 years in hospitality, skills in the development of beverages, brands and operations of the bar industry and winner of the prestigious 'Young British Foodie' award, Carl has put all of his experience and skills together to generate something special with CROSSIP.
Carl has been perfecting the ultimate sensory experience within a non-alcoholic drink for 5 years now. Over the last year, Carl has created a team around him with drinks industry & corporate experience to take CROSSIP to the next level.
The CROSSIP team completely share Carl's passion that "not drinking" is not just a one-off, it's a way of life, it's about enjoying a drink, but also maintaining balance