Noughty – the first top quality Alcohol Free, Organic, Vegan, Halal, Low Sugar Sparkling Wine.
Noughty White alcohol-free organic vegan sparkling has been dealcoholised to retain the rich flavour of this beautifully crafted bottle.
With 5.9g of sugar per 100ml, it has almost half the sugar content of other non-alcoholic sparkling. And with just 18 calories per glass, it's the perfect answer to a hangover free celebration.
Certifications: Certified organic, vegan and halal
BBC Good Food: "Noughty is World Leading Alternative to Champagne"
BBC Good Food has stated that Noughty has "earned its place as the world leading alcohol-free alternative to champagne and sparkling wine. Noughty sets the bar high for competitors and was in our opinion the closest match for a real wine."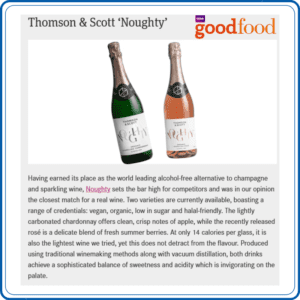 Pairing
Noughty White is a celebration in itself and really sings with salted and spicy nibbles as well as complementing Asian food and a wide variety of dishes for those choosing something elegant without alcohol.
Tasting notes
Beautiful classic rosé in colour with a scent of freshly picked berries. The balance between sweetness and acidity is in perfect harmony.
Certifications: Certified organic, vegan and halal
Varietal: 100% organic Chardonnay
Vineyards: Sandy and calcareous vineyards are located in southern Spain.
Information:
Alcohol: 0.0%
Residual Sugar: 5.9g/100ml
Kcal: 18/100ml
Serve really cold
A word about the founder: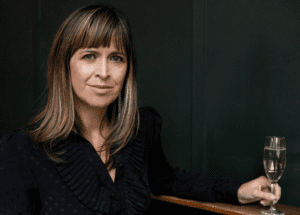 Noughty was launched by Amanda Thomson, CEO and Founder of Thomson & Scott.
"I set up Thomson & Scott to enjoy delicious Champagne, Prosecco and sparkling wine that avoids adding unnecessary sugar to the production process."
Her idea: taking a sophisticated, vinous approach to crafting an alcohol-free sparkling that she would enjoy drinking.
She also wanted her wine to be:
– organic certified
– vegan certified
– without unnecessary sugar.
Amanda is also driving the debate for greater transparency in wine production and labelling and wants consumers to push to know what's in their bottle.
Raised on a plant-based, no sugar diet by her health-conscious mother, Thomson has always had a keen interest as to what's in her food.
Thomson & Scott is a certified B-Corp, which encapsulates everything about Amanda's philosophy: ethical, honest wines. Profit with purpose